Bio of Fr. Karam Alraban
Diocese of Victoria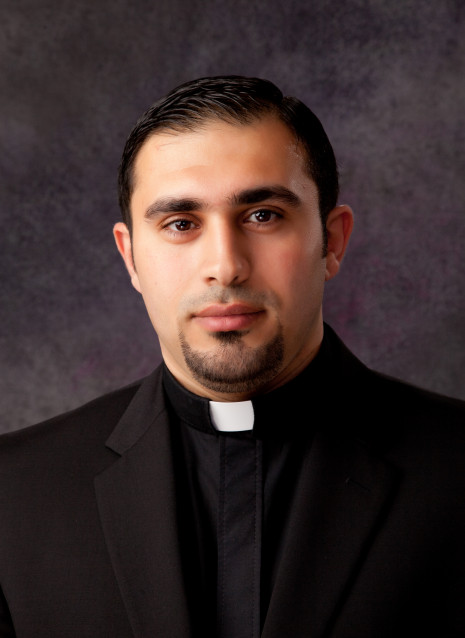 Fr. Karam Alraban was born in Baghdad, Iraq on Dec 14, 1987. In 2000, he began his religious studies there at the minor seminary of St. Peter for Chaldean Patriarchate. He later joined the major seminary of St. Peter for Chaldean Patriarchate in 2005 in both Baghdad and Erbil. He graduated from the Pontifical Babel College in 2011 with a Bachelor's degree in Theology.
In 2011, Father Karam was ordained a priest in the Syriac Catholic Rite and served in Our Lady of Salvation, Syriac Catholic Church until 2012. He then moved to St. Behnam, Syriac Catholic Church where he served until 2013. In 2014, Father Karam fled Iraq as a refugee to seek safety in Canada. After receiving refugee status, he was welcomed into the diocese of Victoria, B.C.
In Baghdad, Fr. Karam worked with poor, persecuted Christian families whom he visited in remote, unsecured districts of Baghdad. He coordinated with humanitarian organizations to provide them with food, bedding, and personal hygiene supplies. He also coordinated with the minister of human rights in Iraq to offer financial assistance to some of the victims of the October 31, 2010 attack on the parish of Our Lady of Salvation.
Father Karam's ministry included the spiritual care of families through pastoral meetings in St. Behnam Church in Bagdad. These meetings provided the families with education on necessary social, psychological and spiritual issues as well as presenting them with the Church's view of these issues. By coming together in this format, the families were given the opportunity to connect and support each other.
Father Karam also worked with youth. He led groups of young people to share the joy of the Lord by visiting the homes and care homes for seniors with special needs. He taught classes for the preparation of the sacraments in both Erbil and Baghdad. In 2011, he led a camp in Lebanon for 50 children from various religions to learn how to live in peace and to bring peace to others. In 2013, he acted as chaperone for a group of families, 48 people in total, from the parish of St. Behnam, to visit Turkey for social activities. In 2013, he went to Abu Dhabi, United Arab Emirates, to replace one of the priests. There he celebrated Mass and provided activities for the Arabic speaking community in the Roman Catholic Church.
In Canada, Fr. Karam has volunteered in Catholic organizations to help refugees and make them feel welcome.
He received his Management Skills for Supervisors Certificate from Vancouver Island University on December 3, 2016. He began his ministry as the administrator of the Church of the Ascension, in Parksville, B.C., on July 13th, 2015 until April 23, 2017. He was assigned to the Church of Holy Cross Catholic Church in Victoria on May 15, 2017.
As of June 4, 2018, Fr. Karam was appointed as Administrator of Holy Cross parish, while Fr. William is on sabbatical.
---